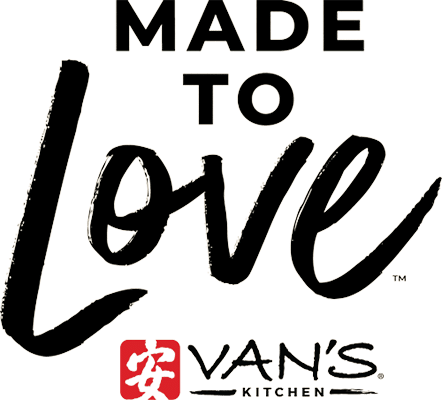 The Starting Point
When we first met with Van's Kitchen, they were an established business looking to expand their opportunities. They'd been selling egg rolls for more than 30 years at thousands of retailers across the country, but knew they weren't tapping into their full marketing potential. Messaging was failing to connect on a deeper level, and they needed a perspective shift.
When we took a look at who they were and how far they'd come, we knew there was a huge opportunity—and it had nothing to do with egg rolls.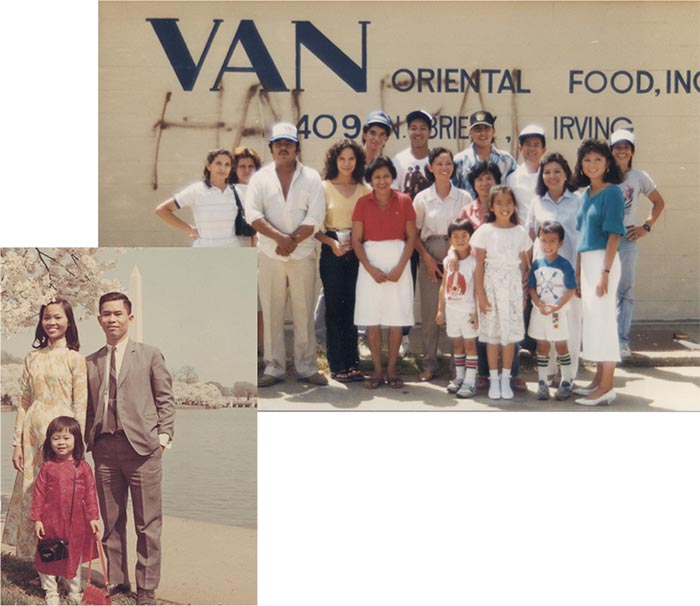 The company was built from the ground up by Van and Kim Nguyen, two Vietnamese immigrants who fled a tumultuous situation to pursue their dreams in America. After 20 years in the U.S., Van decided to start his egg roll company in the 1980s, eventually growing to a $20+ million dollar business —but most importantly, providing career opportunities for women and minorities.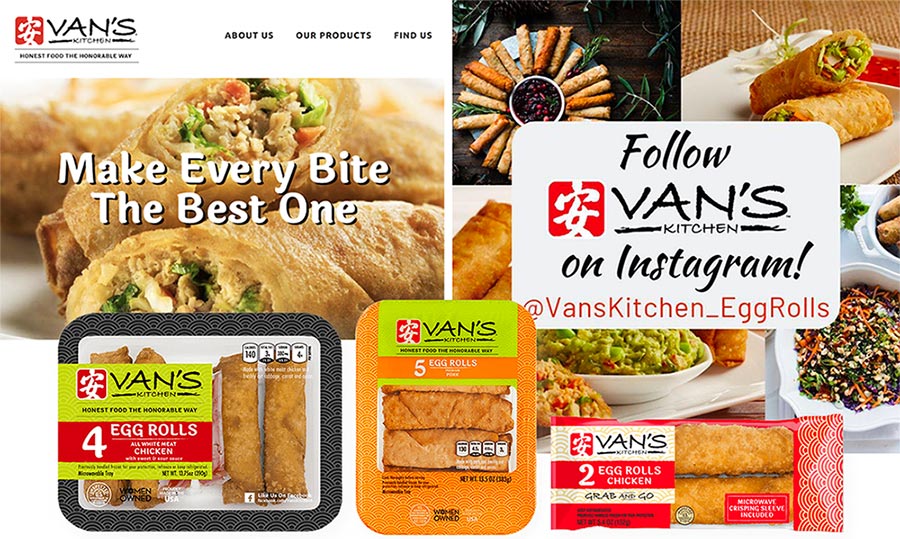 Their Brand Before OVRFLO
The Van's Kitchen brand elements before going through our OVRFLO process were like many brands out there today – missing the unique visual and emotional connections that purpose-aligned brands can deliver. The look and messaging did not set them apart, and the overall application was inconsistent. The brand needed to be more human, more personal and more unique. Our job was to change all that, and change the conversation from products to purpose.
With such a powerful story, we encouraged Van's Kitchen to build their entire brand and purpose conversation on how they overcame such great challenges to pursue the American dream, impacting their own lives, their employees, and the thousands of people across the country they were feeding every day. After a collaborative process with their team, we were able to refine their 'WHY' into the following, easy to articulate purpose statement:
Purpose Uncovered
The Van's Kitchen 'WHY':
"We empower outsiders, underdogs, and the 'least of these' to rise up, conquer challenges, and fulfill their dreams."
Van's Kitchen exists to inspire and empower all the underdogs facing similar challenges that their founders did, to believe that they can overcome as well. Manufacturing Egg rolls is the WHAT to their WHY. Their WHAT allows them the opportunity to live out their WHY, demonstrating it in how they do business, and how they take care of their team every day.
We Changed the Conversation
Using their clarified purpose as a guide, we created a new tagline, "Made to Love", to become their conversation starter in all channels. It has dual meaning in that it not only refers to how you will love the taste of their egg rolls, but also reflects their faith-based mission that everyone they serve is made to love by God. Van's Kitchen wants to share that love and hope with every person who makes or eats their egg rolls. That message attracts those who want to experience that, support that, and vote for more of that with every egg roll they purchase.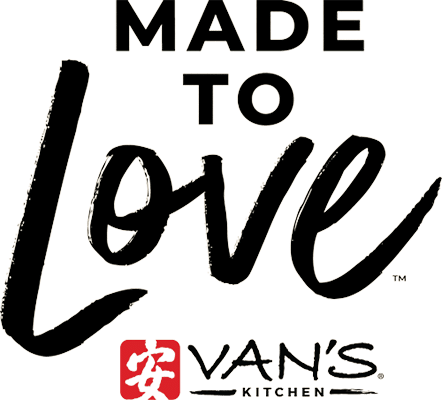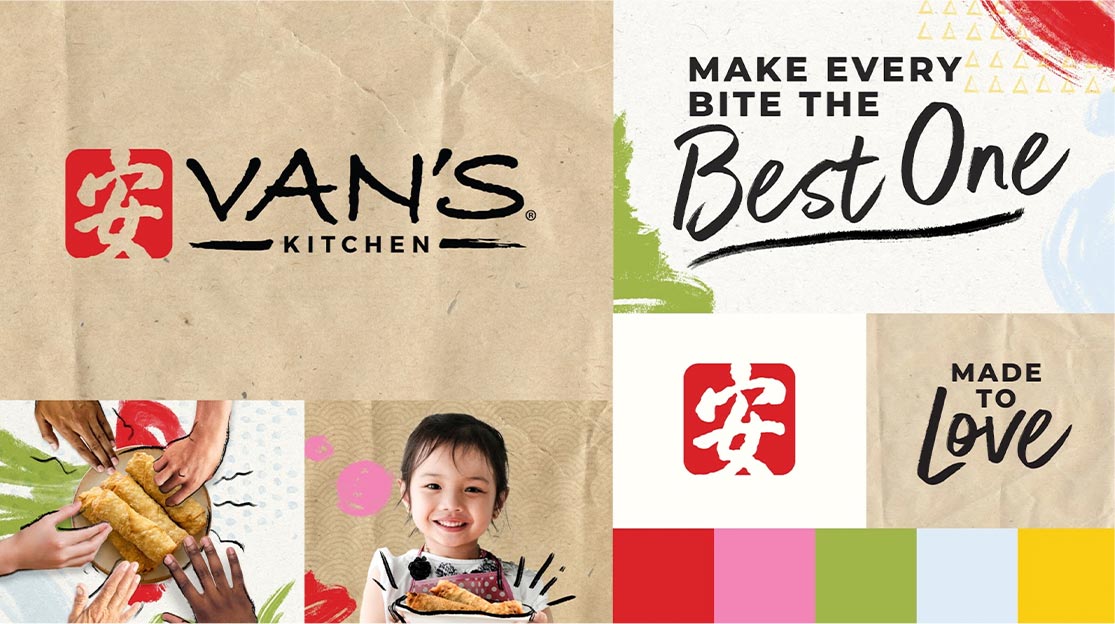 The Rebrand
We tackled an entire rebrand for Van's Kitchen, including visuals, collateral, and creative direction, and also applied it to their sales and marketing process. From an updated website to social media content to video and beyond, the Van's Kitchen purpose is helping them make meaningful connections through all of their brand touch points.
Aligning their culture
Infusing their purpose throughout the company culture was critical in creating long term loyalty and buy-in. We used their clarified WHY to refine their core values, and then applied them to hiring practices, performance reviews, and the onboarding process. We rolled out an internal communication strategy that included a values-based recognition program, training presentations, email campaigns, text messaging and more. It was a matter of scaling their story to inform every aspect of their company, a guide for each step moving forward to get everyone on the same page. Once we had that foundation, it immediately began to take root and affect their business.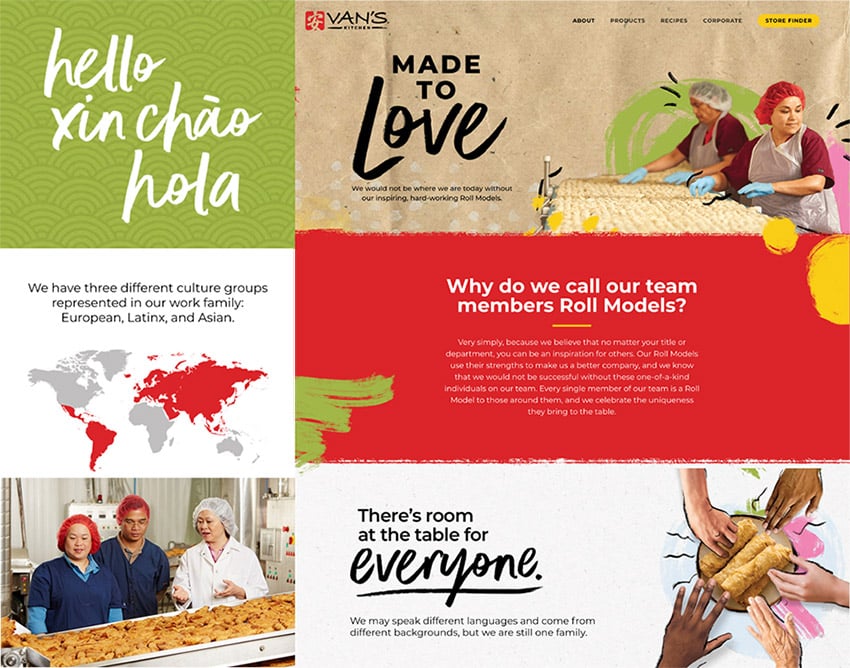 The Results
Ultimately, Van's Kitchen experienced improvement at every level. Their year-one revenue after working with AM grew by 32% in grocery stores, and 64% in convenience stores. But, most importantly, they now have a sustainable strategy moving forward, a way to communicate that connects with people on a deeper level. Delicious egg rolls are just the icing on the cake.
"I was really blown away at how much our new, clarified WHY touched every facet of our company. Every decision that we make now goes back to our purpose, and OVRFLO really set the stage. It was the foundational piece that everything we're doing now is feeding off of, and we're reaching new heights. I've gotten more than what I expected from this process. I feel like we're the ones that are blessed to get to work with AM. We wouldn't see the success that we have without them."
Carl Motter, CSO
Van's Kitchen
As this case study demonstrates, bringing your organization to life begins with your purpose. Van's Kitchen isn't the only business with a compelling story. If you're inspired by their revitalized brand and culture, we'd love to talk about how we can accomplish the same thing for you and your company through the OVRFLO process.