Web Design, UX, Development, Video Storyboarding, Scripting, Animation, Editing, & Production
Custom Website and Store, App Design & Development, Promotional Video
To make passionately crafted musical products in the heart of the usa.
Growing up in The Great Depression, Milton Kyser told himself as a young boy that if he ever owned a business he would have all of the work done by locals so they could provide for their own families. In 1974, he had an idea. After years as a metal machinist, Milton designed and built machinery and a company that would change the capo and music industry forever. Within the next few decades, Kyser had to expand it's production and distribution centers four times and began grossing $10 million a year. After all this time, Kyser remains a Texas-based, family-owned business that stays true to a heritage of craftsmanship, ingeniuity, and passion.
Kyser Musical Products continues to grow Milton's legacy and create quality, innovative music products that gain more celebrity and international industry exposure every day. With this growth, Kyser came to us to design a website, an app for their new capo and Smartphone Holder, and a promotional video for the capo and app. With a new website, custom online store and app, Kyser is able to further their mission of making the best musical products right here in the USA; products Milton Kyser would be proud of.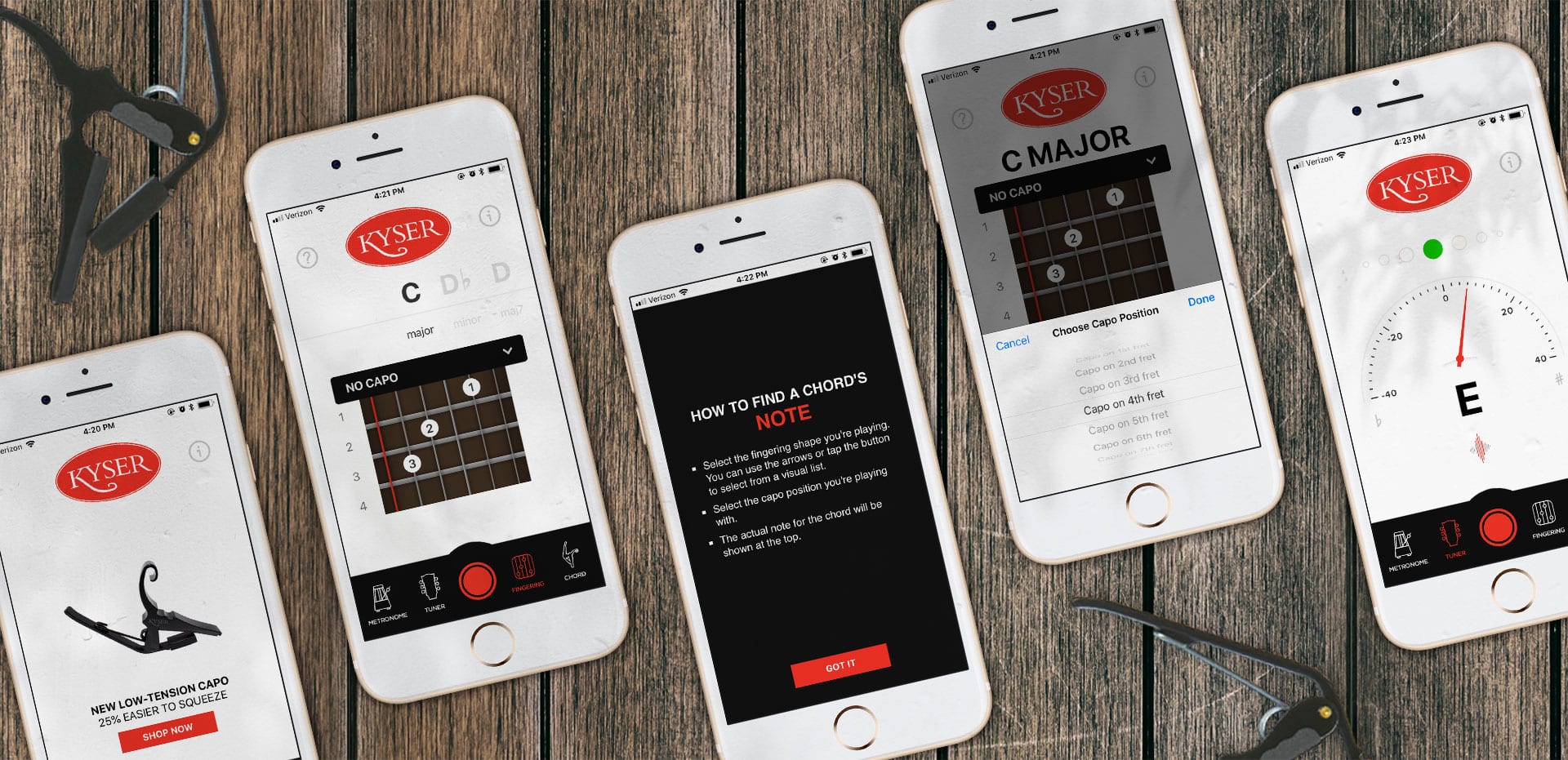 The Kyser Capo App we developed for i0S and Android recognizes the needs of a musician to have multiple guitar-related functions in one easy-to-use application.
Metronome
See and hear an accurate pulse.
Tuner
Tune faster and start pitch ear training.
Hands-free Recording
Record with the capo smartphone holder.
Fingering Charts
Practice, change, and visualize chords.
Transpose
Move your capo, switch keys and change fingering positions.

To introduce the launch of the new Smartphone Holder Capo and App, we created a promotional video to inspire Kyser's audience and reveal the cutting-edge features inside the app. The video continues to position Kyser as a company who is dedicated to artists and understands the transformative power of hard work, passion, and guts.